Spring is with us and although there are longer days of light and some sunshine, many days have been cooler than normal so far.  The bees in our apiary have been having a difficult time with this with the result that we have lost four out of the eleven hives due to starvation.  Let's trust that there will be more warmth soon leading to a good honey harvest later in the year. It has been lovely to have some young people along to our regular bee sessions at 2pm on Wednesdays meeting at the Conservation Hub to learn about the amazing world of bees – all are always very welcome to join us by getting in touch on 07825212816.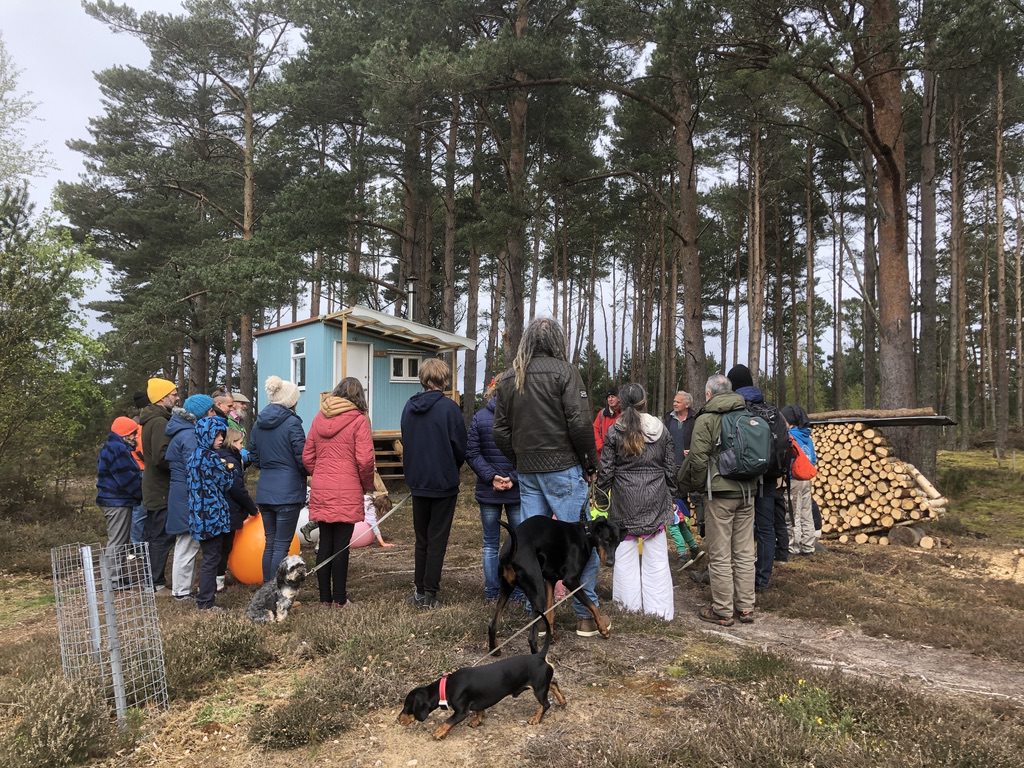 A couple of the main FHT happenings this season have included much work restoring the Shepherd's Hut so that it can be used for accommodation for an apprentice for Kajedo our Land Manager.  Recycling the old office has taken time and skill but with the help of longtime volunteer George Paul and the return of visiting Spanish handyman Louis and his wife Tigga we managed to get it completed and moved onto a site sheltered in the firebreak up by the Green Burial ground with our tractor before the May Day celebration.  Part of the celebration involved a blessing of the hut with a surprise appearance in dressing gown and slippers +  violin of Sarah Perricone, our winner of the Woodland Orchestra evening raffle earlier in the year – she won the first three nights in the hut and it is now looking cosy and snug complete with wood stove for her. Do have a look at visiting academic Linde de Vroey's article about the beltane blessing and maypole dancing part of the celebration written up elsewhere in this newsletter.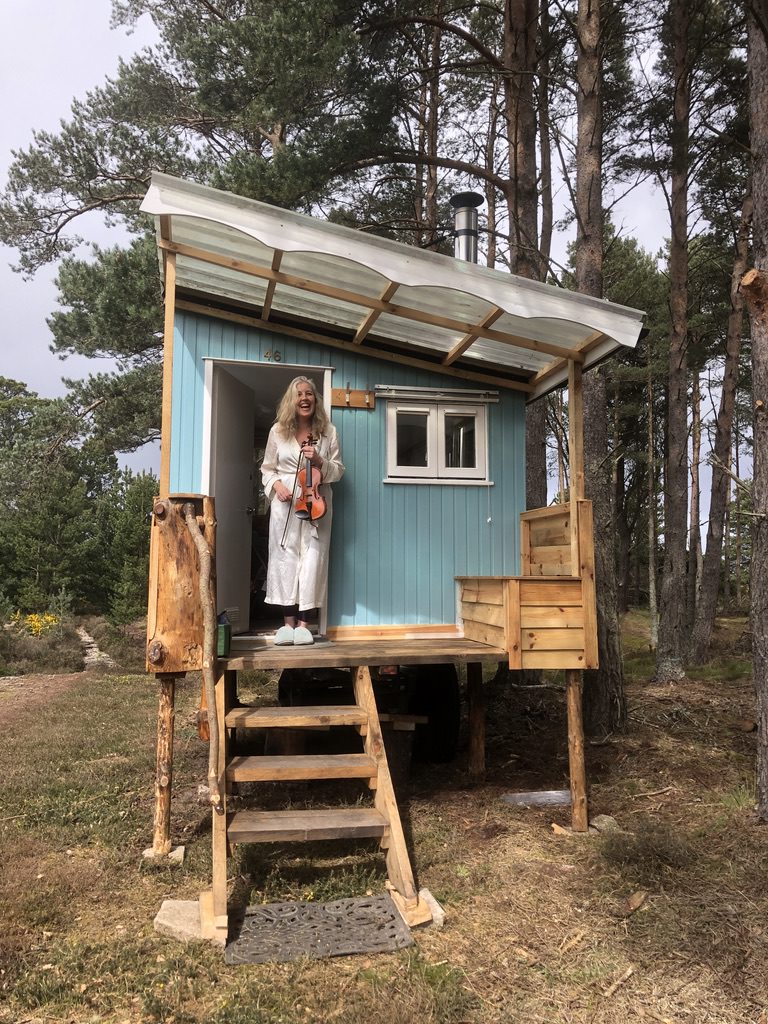 In February there was another storm with further damage to the woodland especially around the SW corner of Wilkies Wood near to the Woodside housing cluster.  Felling and clearance of blown trees was aided  by final year forestry student Cameron Henry offering his tree climbing and surgery experience.  New deciduous trees and shrubs have now been planted to bring more colour and biodiversity to the cleared area with East Whins resident Rodney Knights volunteering to take care of any watering  needed over the summer dry spell – thank you Cameron, Rodney and also Kajedo our Land Manager for all the work done in this area. We carry on with the tradition of turning what may seem like disasters to start with into creative opportunities to care for the land and bring people together to create a sense of community in the process.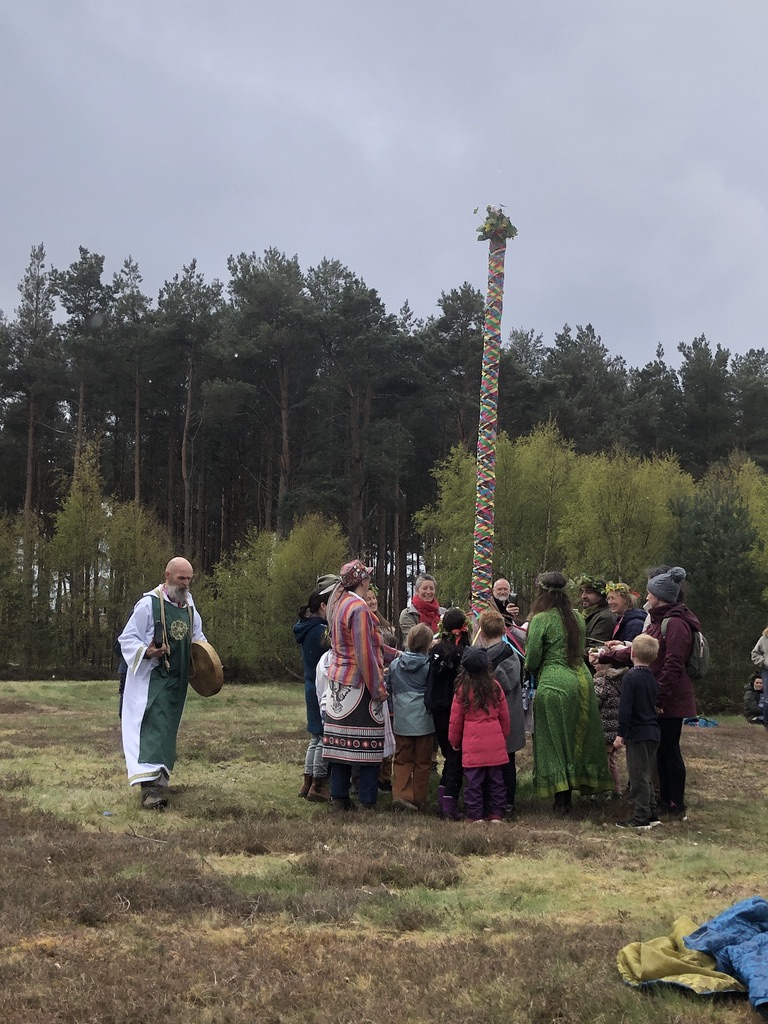 The large redwood tree that stood outside Caledonia near the Phoenix Cafe was also felled before the storm and this wood and that of a couple of other sizeable trees were lifted by Greenleaf's forklift machine on to the FHT's tractor to be stored for milling and eventual use on the new sanctuary build.  Thank you Jason and Rhuaridh of Greenleaf for your help with this.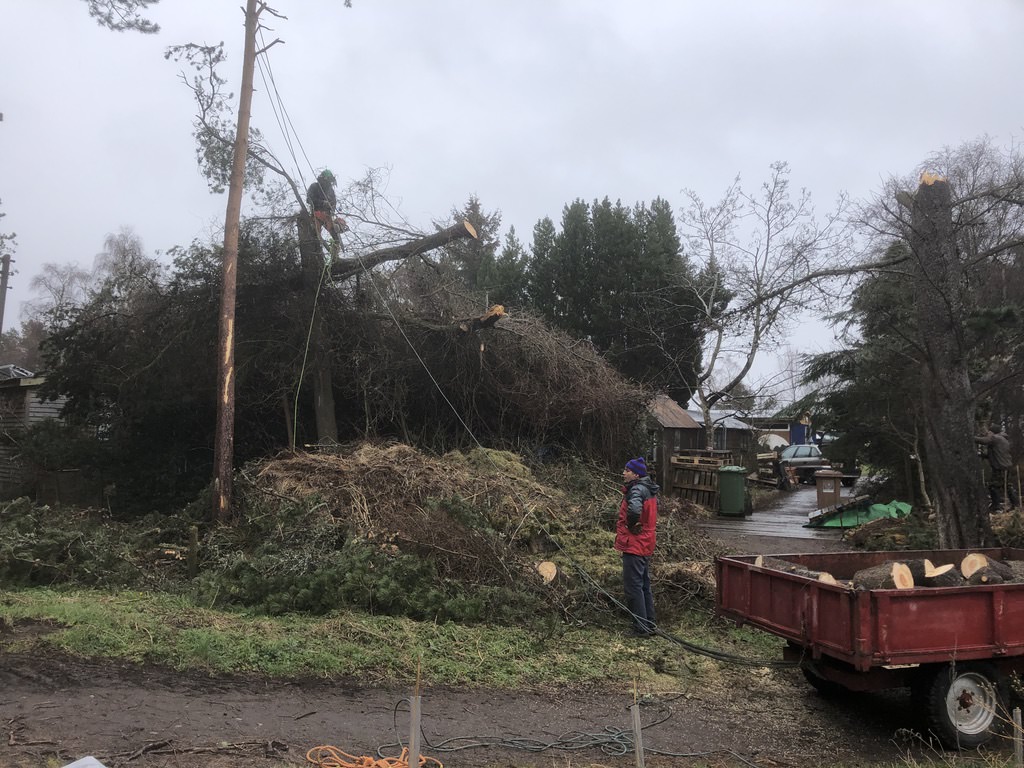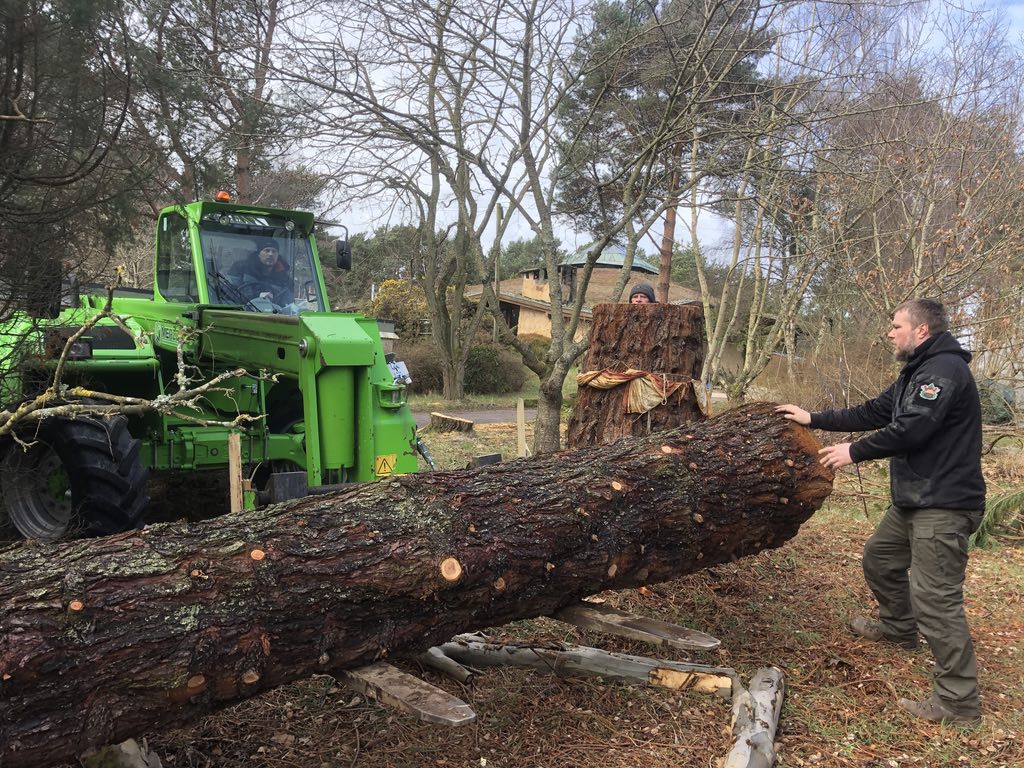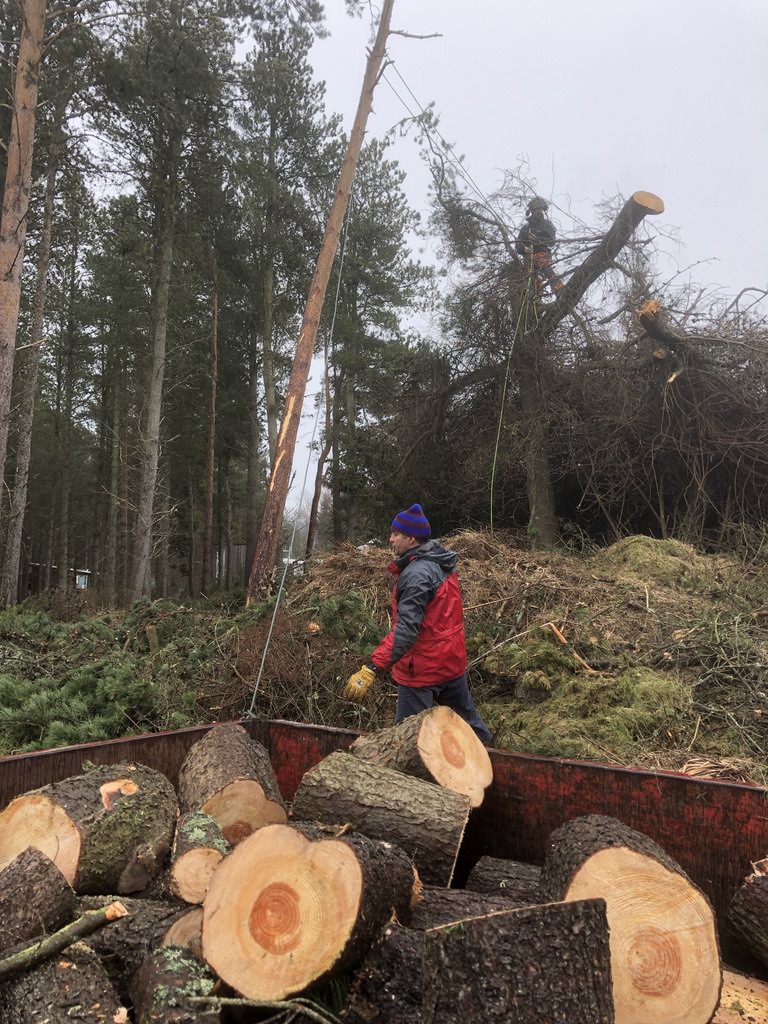 Our regular work parties have been well attended with a Woodland Garden spring clean up event, led by FHT garden focaliser  Draeyk van der Horn, taking place in March and work up at our apiary at the end of April.  Part of the latter event involved fixing the roof of our bee shed using offcut pieces of roofing recycled from Greenleaf construction projects in North Whins – this was the fourth repair to the roof and we trust it will be the final one!  Thanks Spencer Julien for taking on the vital role of being our new work party tea provider at these events and for his write up and photos he provided for the bee work party article found elsewhere in this newsletter.  Thanks also goes to Louise Barnett who had the tea making role before Spencer for her valued contribution during her time living in the area – she has now left Moray but continues as a FHT member. Do remember that Draeyk welcomes people to join in the regular sessions from 9am on Saturdays In the Woodland Garden and likewise meeting Kajedo at the Hub 9am Wednesdays for sessions learning from and helping look after the land  
The repair of the bee shed also inspired George Paul, Frank van Beunigen and I to recycle some of the wood reclaimed from the sanctuary building demolishing with some further recycled metal roofing from Greenleaf to make a more permanent roof to the wood store at the back of the Conservation Hub.  We worked hard at this as well as having lots of fun in the process with great results.  One of the most satisfying parts of this project was delivering it on time and on budget, the budget being £0! – it feels great to be able to recycle and reuse materials to create useful and needed structures together.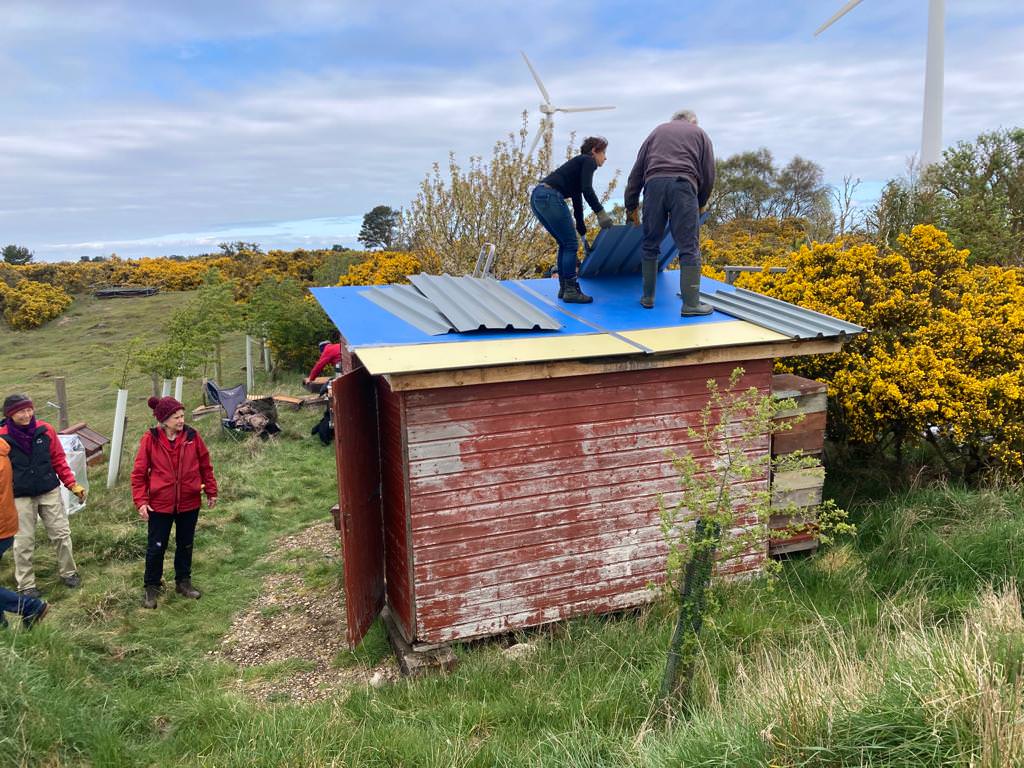 Planning for this summer's events on the land has also been taking place with a number of workshops and educational offerings, celebrations and other happenings coming up – do check out the calendar of events posted elsewhere.  There will be celebration events including a Summer Solstice gathering again based in the large marquee on the green burial ground with the prospect of an outdoor ceilidh, fire and food. We have also decided to try something new in offering a number of educational day events including one on biodiversity that will be held by Alan Watson Featherstone and lichen enthusiast Heather Paul ( and another by Kajedo Wanderer (20 May and 22 September) titled Sacred Ways.  We are also delighted to have educational expert Roy Simpson delivering a day of training on Sharing Nature with Children (24th June) an approach developed by Joseph Cornell in the US that I have used very successfully as a parent and teacher for almost 50 years.  Kajedo is also putting on another opportunity to join in a week-long retreat (22-28 July) on the land-  do explore what is available and come along to these amazing offerings that are available on our doorstep.
On the personnel front, Vivienne Wylde has now permanently taken on the Membership Secretary role from Arun who will be staying on as a FHT Trustee.  Our only paid employee continues to be Kajedo Wanderer in his vital part time Land Manager role with others being paid for various services – Christopher Raymont as bookkeeper, Fiona McKenzie as Minutes Secretary, Birgit Carow who does a great job with producing posters and material for marketing and a small stipend to Jacqueline Buckingham for making sure this newsletter comes out regularly.  Behind these people there are all of you that contribute in so many voluntary ways to help look after the land and make this venture a success.  A huge thank you to all as the FHT goes from strength to strength.
Enjoy the summer on the land – I will as well as being off sailing again for the month of July visiting other amazing  places around the Scottish seas and coming back refreshed.
Blessings to All,
Jonathan Caddy