Early February: Henry Frosbooke has just finished his offering of 'Drum baths' at the Woodland Shelter and is setting up for his part in our fundraising event in the Universal Hall tonight. With Alan's amazing photographs, Carolina's singing and more, we are trying to raise funds for a wee wood-stove for the 'Shepherd's Hut' – our now almost complete year-round simple accommodation for a young 'apprentice'. 'Succession' is an important issue for us – as most of us who are active on the land are around retirement age – or even older!  We need younger people to grow into all it takes to be good stewards of this land! I know that they are a bit young but it's been a delight to see the wee 'Findhorn fledglings' and their parents every Friday morning at the fireplace by the picnic table!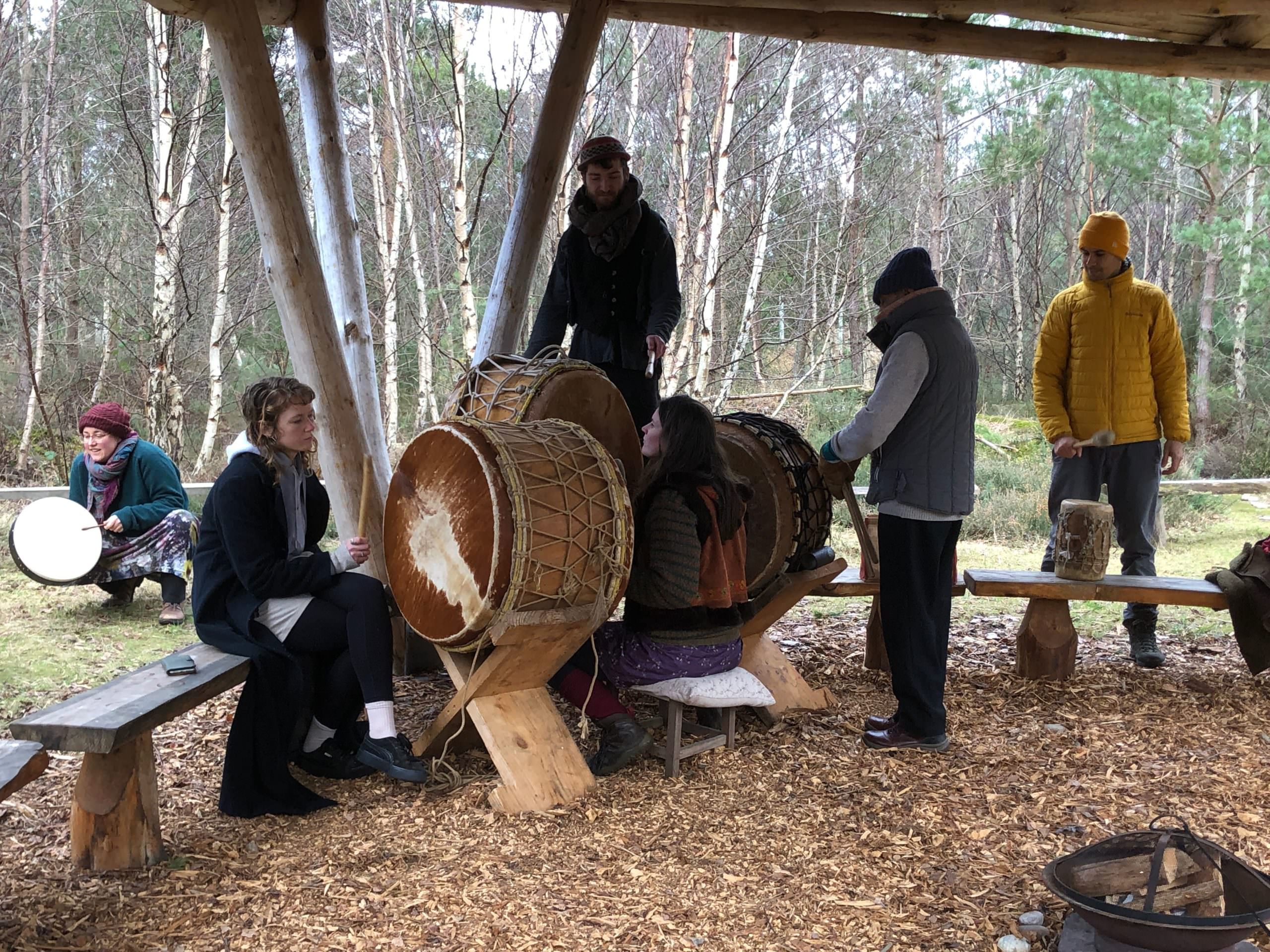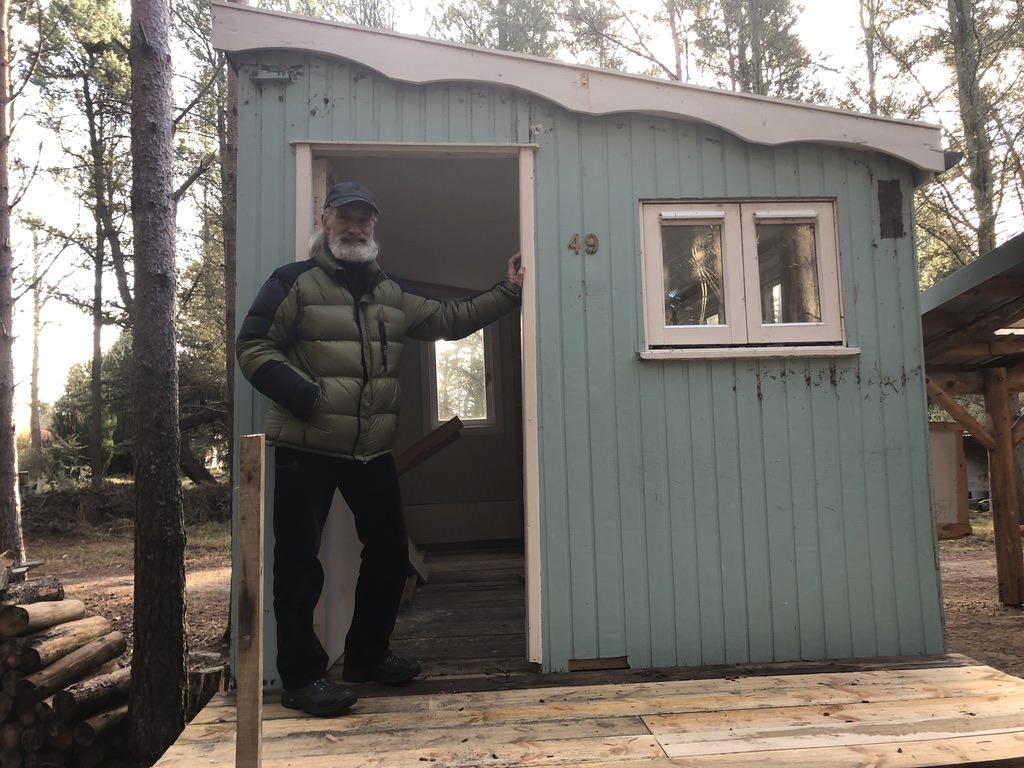 I love the winters here – watching the low hazy winter sun paint the trees golden… or the transformation of it all when we do get the rare snow covering everything… And it's a quieter time – with Nature around us dreaming of the next spring…
As I write this, snowdrops seem to be appearing out of nowhere from the bare winter ground. Here and there in sheltered spots other bulbs are poking out of the earth… but it's still winter, and in our part of the world we might still be in for some pretty cold weather.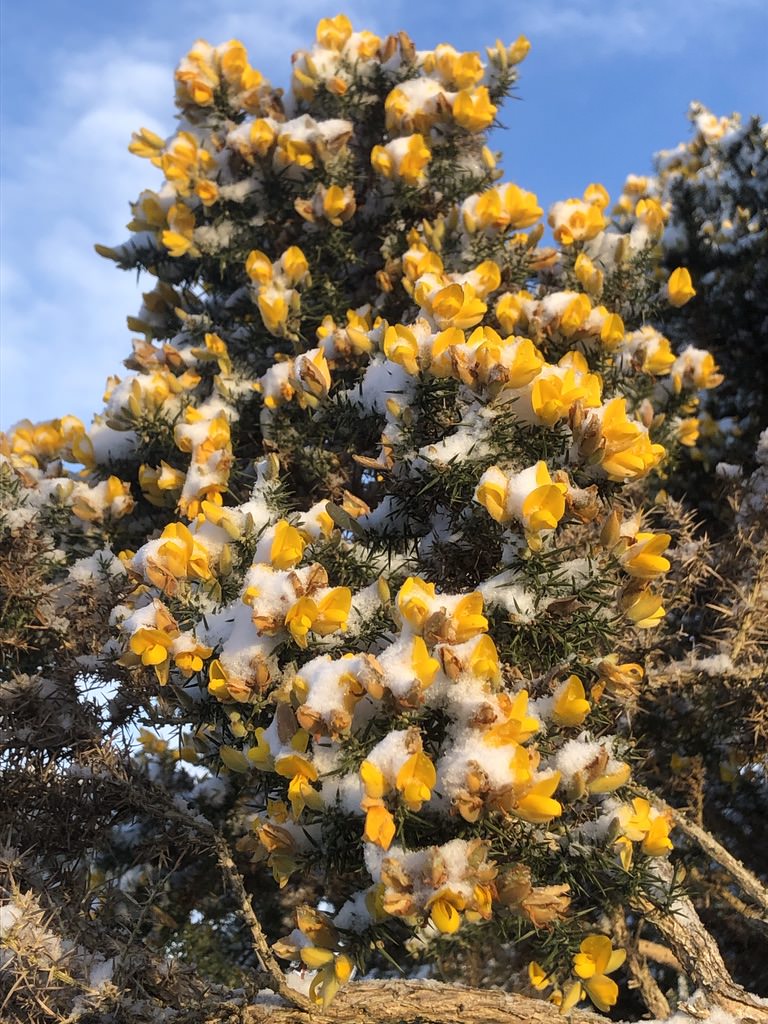 We have sold around 10 tractor-trailer loads of firewood to community members this winter – all of what we had cut after last year's storm damage and thinning.  And we are half-way through this winter's tree felling plan as we continue to make room for a new generation of trees amongst the standing pines in Wilkie's Woods.
An extract of a poem for this by Antler;
Count the rings and stand on the stump and stretch your arms to the sky.
Think only because it was cut down could you do this.
You are standing where no one stood
But the dark inside a life
That many years.
We had made a start cutting the gorse back on grassland and firebreaks with the topper, but an unfortunate breakdown of the equipment forced us to put this back to after the felling season.  We have been able to cut back the regrowth of gorse on our main heath areas with the brushcutter, but this is a never ending job!  Walking the land I am always amazed by the gorse. It's resilience – I don't think there was a month when there wasn't some gorse flowering yellow somewhere out there. Of course it's just a token of the ocean of yellow we get in the spring. But still – what an amazing plant!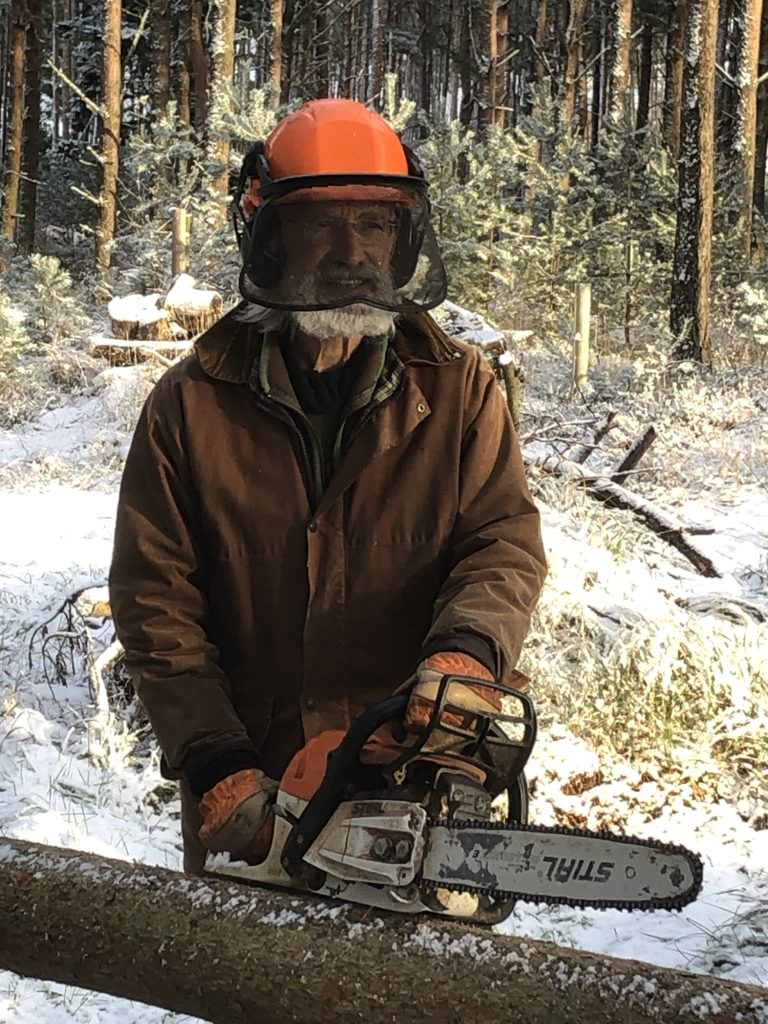 We have had four or five burials since I last wrote – 50 bodies in the Green Burial ground now! The last one was Katharina Brocke's – with over 200 people in the Universal Hall and around 50 brave souls accompanied the wicker coffin from the Hall on icy paths to her final resting place. An extract of another poem for this by Antler;
Where your feet touch Earth
You know you are touching
Where something has died or been born…
Let's make good use of the remaining quieter winter weeks – by listening to the wind in the trees, and the winds of change blowing through us…
By allowing ourselves to become still enough to hear the trees themselves – on windless days…
Allowing ourselves to dream – of the next spring….
Many blessings,
Kajedo Wanderer,
FHT Land Manager