On the 24th of January the temperature was up at 11C in the middle of the day which got us thinking about the FHT Apiary and our bees so off went Martin and John to inspect followed by a meeting to scheme about the bee focused delights and opportunities that might be available to us and other people in the local area during the coming year.
At present we have eleven hives  and all were found to be alive and active.  A few are fairly small colonies but we are very keen to see if we can get them through the winter.  We would like to maintain ten strong hives here in our apiary that will produce more local honey which is always in demand and also provide educational opportunities for young and old to explore the fascinating world of bees.   John Willoner, Martin Harker and I have for a number of years held  the focus for the FHT bees.  We are a great team but are always on the lookout for others that might enjoy helping to share the load and the fun, now and into the future.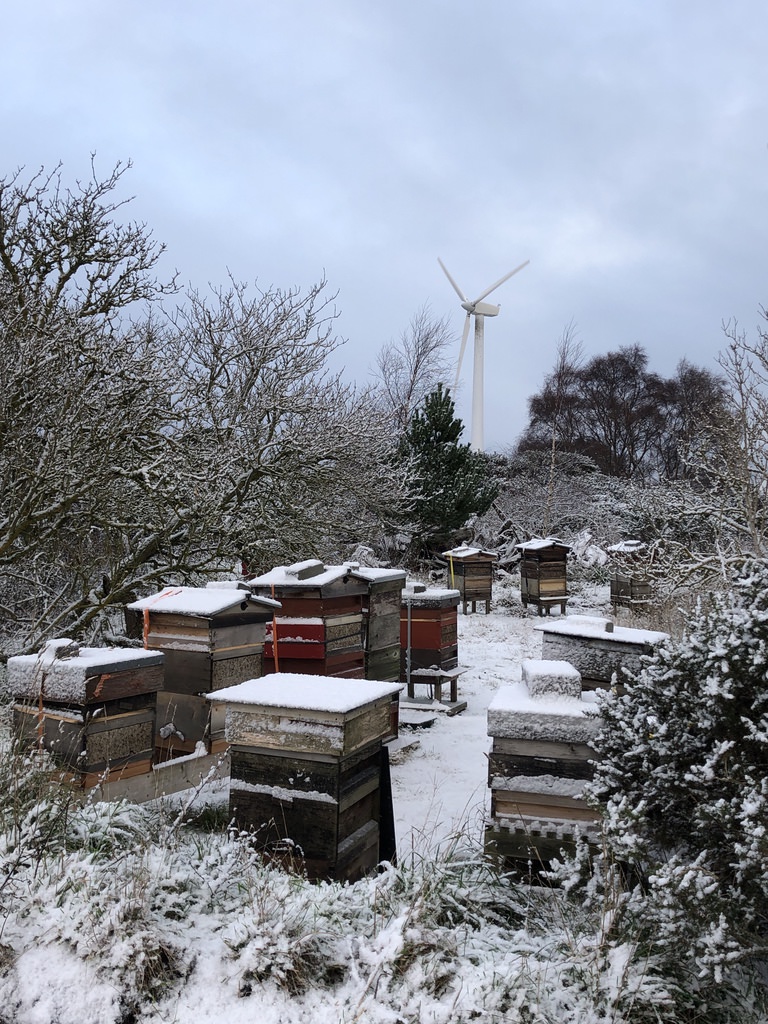 This year we plan to start our regular weekly inspections after Easter on Wednesday 12th April from 2pm to 4pm and every Wednesday thereafter weather permitting, possibly changing it to later in the day as the season progresses so more folks may be able to join us.  Let us know if you might be interested in this.
Two other events you might be interested in are the FHT work party 9.30am – noon on the 29th April which will focus on our bees including giving more people the chance to look into our hives and the idea of an educational day or even weekend later in the summer to learn still more.  Again let us know if you are interested in either of these two offerings or have particular requests or ideas.
The FHT bee team will also continue to take part in the national honey survey which uses the DNA from honey samples to monitor changes in the environment and levels of pollution – since bees collect nectar from a three mile radius they sample over thirty square miles of land which contributes invaluable information regarding the state of our local and national environment  
Looking forward to the buzz of spring and summer and hoping you can join us for a fascinating and rewarding year getting to know our local bees and your friendly and knowledgeable beekeepers.
Please contact me at [email protected] or on 07825 212816 if interested in getting involved in any of these activities or for more information – we would love to see you and encourage your interest.
Jonathan Caddy
For the FHT Bee Team
24th January 2023