Will Russell has been involved in our green burial site from the very start, which was April 2007 when Katherine Inglis became our first burial.  Three years later he officially took on the role of Green Burial Coordinator for the Findhorn Hinterland Group by which time six burials had taken place and seventeen lairs had been sold. Skip forward to today, November 2021- we recently celebrated the sale of the 100th lair to Adam & Christina Powell and also a further two sales of lairs since then, bringing the total to 102 and now there have been forty-two burials that have taken place.  Income since that first burial has exceeded £92,000 of which all monies after expenses have gone for the past, present and future conservation and management of all of the wonderful Findhorn Hinterland land.  This is a terrific achievement that could not have been accomplished without the hard work, magic and charm of our big-hearted Will who largely achieved this single-handedly– a huge THANK YOU for all that he is and has given.
To ensure succession and a sustainable future for the green burial enterprise, Will announced his standing down from his role as Green Burial Coordinator earlier in the year and instead proposed creating a small team to hold the workings of this important community resource.  Burial fees were restructured to make sure that the lair price was competitive and that it also included enough to pay people in the future for the various roles necessary to deliver successful funeral events.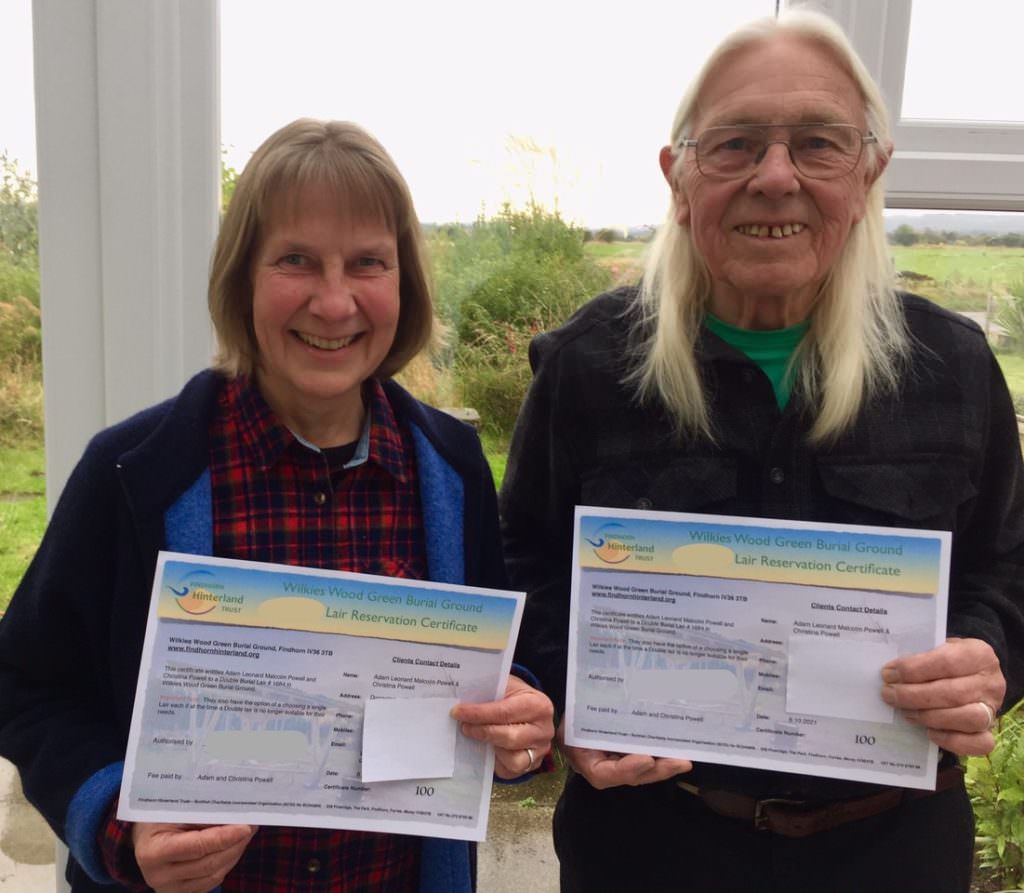 So instead of Will doing everything as a dynamic and talented one man band, three distinct roles have been created with community members having now stepped forward to fill them: The Green Burial Consultant role involving delivering information about what is on offer and dealing with sales will still be held for the time being by Will; the Funeral Coordinator role which involves working with family, funeral directors, the land manager etc at the time of a funeral will be held jointly by Laura Shreenan and Juanna Grace; the Land Manager role which involves coordinating and directing the digging of the lair, marking of lairs, setting up boards,  preparing the funeral trolley etc will be held jointly by Kajedo Wanderer and Jamie Bryson.  
During the restructuring process and also with various covid restrictions put in place, it recently became apparent that if the family of the deceased wish to have a wake/ celebration / funeral teas either before or after the burial, it would be ideal if a list of people willing to coordinate and organise such events independent of the Trust could be created. We could envisage this "funeral event manager" role to be coordinated and arranged by a self-employed or independent person possibly as part of an existing business? If you might be interested in offering such a service do get in touch via [email protected] so your name can be then offered to families in the future for arranging this sort of event for them. 
The green burial resource that was set up in Wilkies Wood and granted planning permission back in February 2008 has come a long way in fourteen years and provided a great community service to so many.  It has also provided a real win/win/win result for the environment, the finances of the FHT, members of  our community and others in the local area.  It is one of the things in my life I feel most proud of having taken the initiative and set it up after my mother's death back in 2006.  May it continue in its new form to provide useful service to all and remain that beautiful green space in the middle of the woods that was created out of the devastating results of a winter storm.  
My hope and belief is that our community is similarly on the cusp of arising into something tremendously positive and different out of the devastation of covid and fires.
Jonathan Caddy
FHT Chair