Last Year's Activities and Achievements
It is important to reflect from time to time on the many events and successes of the Trust and there is no better time than when the annual report needs to be written up for the charity regulator. You will most probably see the text again in the report that all members will receive but I wish to take the opportunity to share this with you now as I think it is rather impressive and may get overlooked when combined with all the figures. Apologies for the lack of photos in this article.
Much has been achieved on many fronts this year with activities and events that often simultaneously promote all four of the charity's purposes. Some of the most prominent have been:
Conservation and Educational Events on or Related to the Land – This year there was a marked increase in educational events catering for a wide variety of individuals and groups within and beyond our local community.  These included: a day with over 60 secondary pupils from Forres Academy carrying out their biology fieldwork studies with the school hoping to make this a regular annual event; a Chivas Regal corporate event set up for 30 locally based employees that had them pay us to carry out some great conservation work; programmes set up by local charity Equal Adventure to help vulnerable young people that used our facilities and land as a regular base;  our woodland and Woodland Shelter facility were also used to help deliver a Forest Bathing training course put on by Nature and Therapy UK  which also looks to become an annual event; a Biodiversity photo exhibition of stunning natural history images taken by trustee Alan Watson Featherstone took place in the Universal Hall later in the year that was followed by an evening celebrating biodiversity with Alan delivering talks and slides followed by a well received time to socialise in the cafe and a Woodland Orchestra fundraising event in January put on by Henry Fosebrooke and his Woodland Orchestra.  These were all in addition to our regular events including well attended  monthly work parties that give the opportunity for local people to get together on the land to care for and learn about their local environment, the popular fledgling parent and toddler group gatherings every Friday morning connecting very young people and their carers to the land and the ever successful Christmas Tree event which is a social gathering around our Woodland Shelter which also raises funds by offering non-native trees for a donation.  Our 11 camping pads were well used by a steady stream of young volunteers who helped on many of the land based projects and general land maintenance this year – it is important to have this facility as it is a way young people can get involved in our work and learn from the land.  Our trial apprenticeship programme with Irene Canalis staying in our bell tent with woodstove from March to October went well with the trust gaining experience of how best to hold such a programme and Irene herself very appreciative of the learning opportunity.  One of the things we learnt was that the tent is not useful for year round use and is subject to getting mouldy erected in the woodland for so long.  A number of retreats and workshops were offered but the only one to book this year was a workshop on plant diversity put on as a day event with camping options by the former founder of the local educational charity Wild Things! Jennie Martin. Biodiversity surveys carried out by professionals in different fields continued this year with the completion of a spider survey happening in the autumn of 2022 and ongoing work identifying fungi being coordinated by trustee Alan Watson Featherstone.   More people joined our experienced team of beekeepers during our regular beehive inspections where they were introduced to the fascinating world of bees and with good results at the end of the year with a much appreciated honey harvest mostly sold at a local farmers market and an increase from 4 to 11 hives with 9 making it through the winter.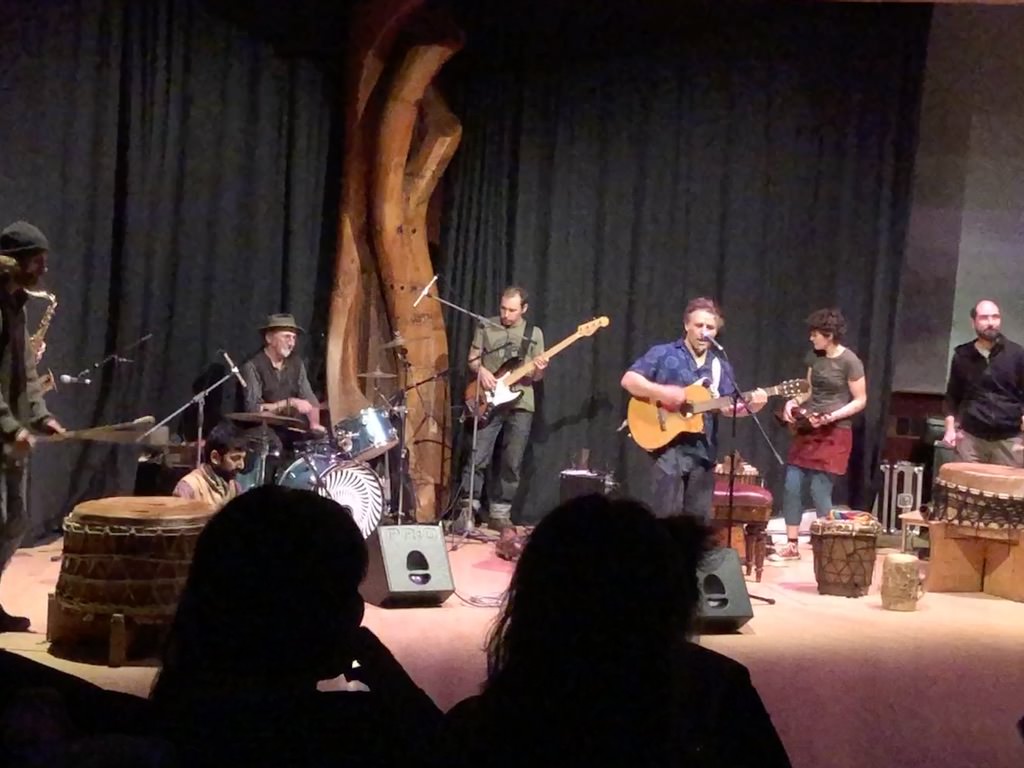 Buildings/ Projects – Using offcuts from milling work carried out last year, the beautifully designed and finished new compost loo was completed in time for the summer educational events.  The peeling of logs for the new community sanctuary was also completed earlier in the year by volunteers.   In addition, FHT provided volunteers and equipment over a couple of months in the winter to help with the clearing of the new sanctuary site in preparation for the build later in 2023.  This activity was seen by the trustees as appropriate to the charity in fulfilling its helping to  build local community purpose. Materials from dismantling three of the wooden offices from the site will be used to make a pony shelter next year and the whole structure of one has been recycled to create a Shepherds Hut using an old tractor trailer as a base and some of the sawn timber from our woodland for the flooring and covered outdoor space extension.  The Shepherds Hut received monetary donations from our Woodland Orchestra fundraiser mentioned earlier and was also gifted a wood stove as a result of that event which is now installed.  The hut will provide year round accommodation on the land for an apprentice Land Manager which is part of a long term FHT sustainability and resilience plan to ensure the charity's good work on the land and with the local community carries on well into the future – as the burial authority for the green burial site it has an obligation to look after the land for a hundred years after the last burial and with its habitat work, looking at this long timescale is also appropriate. Another project completed in early summer was the erection of a new greenhouse that had been generously donated to the Woodland Garden.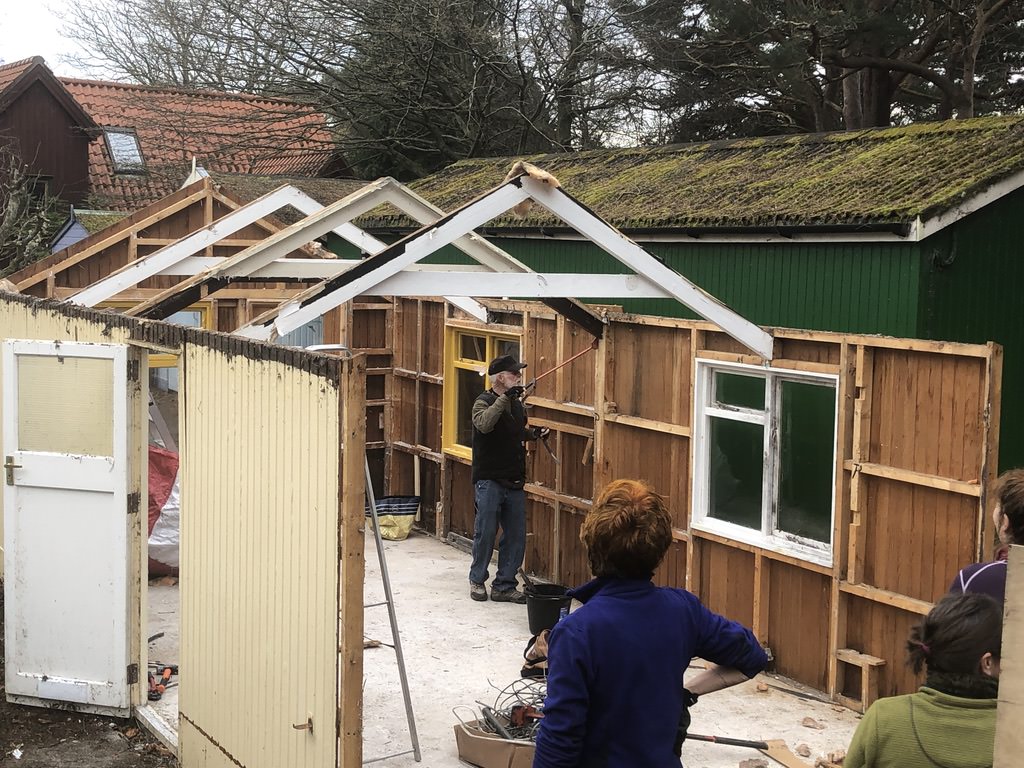 Green Burial Activity – This was the first full year that the new four strong burial team has been operating with the previous one man coordinator Will Russell taking a back seat although still involved in the sale of lairs.  There have been some teething challenges but all seems to be working well during a busy year. 9 new burials took place including three large events involving long term community members Brian Nobbs, John Wragg and Katharina Brocke.  This brings the total number of burials to 53 with a further 64 lairs that have been reserved and approximately a further 112 lairs that could be sold.  This year there has been an increase in the lair digging fees from £150 to £200.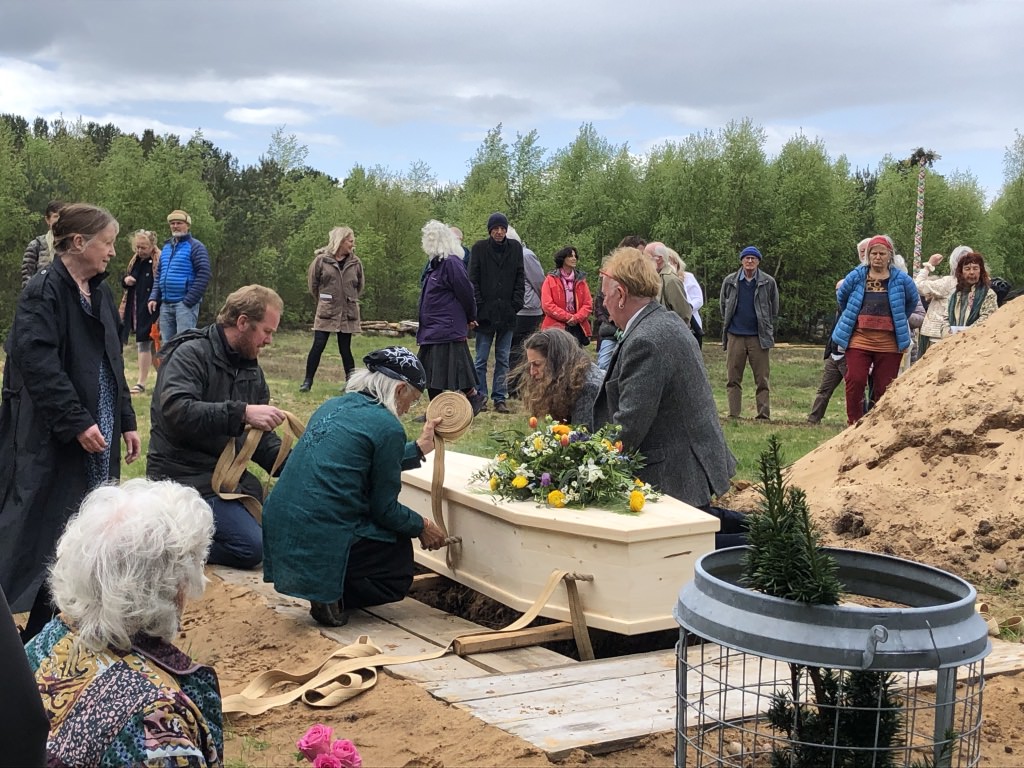 Woodland Garden – Draeyk van der Horn who coordinates this aspect of the trust's work has done a sterling job this year of making this demonstration educational garden vibrant and productive alongside taking on the demanding position as Green local Moray Councillor.  He has involved regular volunteers on Saturday mornings and had the support of a couple of larger work parties at critical times of the year The new greenhouse has been a great additional asset and the Outdoor Learning Space structure has been enjoyed by the many that take time to visit the garden.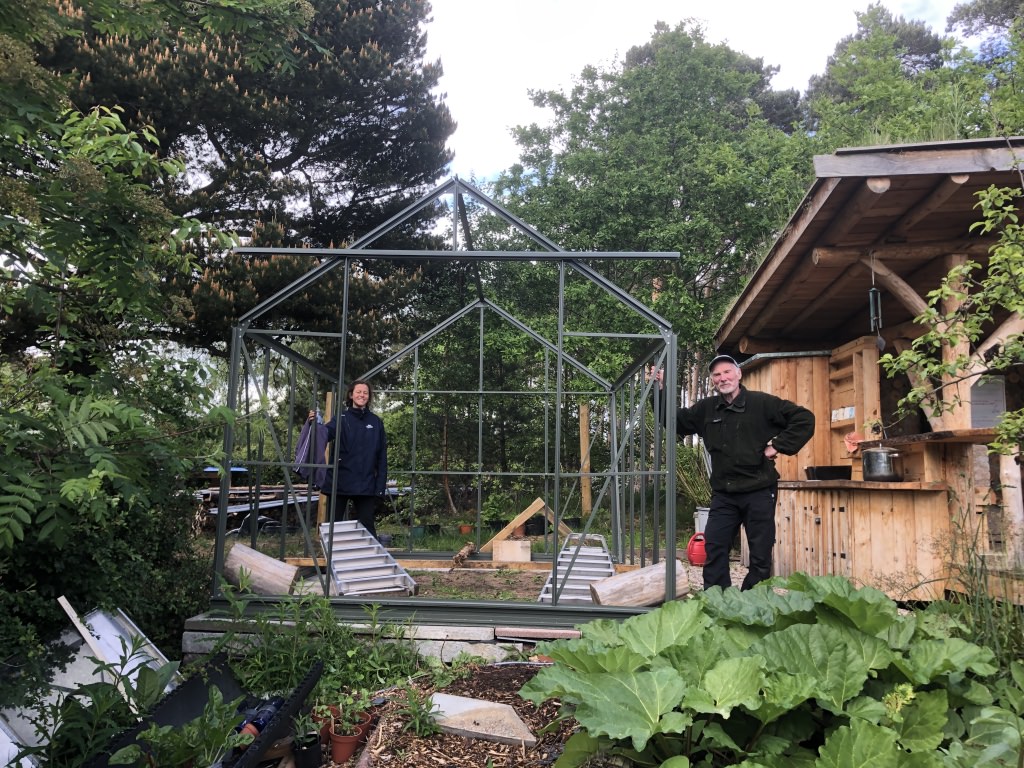 Membership and Publicising the Work of the Trust.   Our second full year of running the trust's paid membership scheme was again successful with an increase of membership from 130 to over 160 bringing in a much needed regular income. Our quarterly newsletter produced by a small team of volunteers also went from strength to strength with trustee Jacqueline Buckingham now paid a small fee to ensure it is of a high standard and is produced on time. The Conservation Hub information boards have been extremely successful in informing people about the work of the charity with a large number of passersby stopping to read them and there are now attractive squirrel design promotion cards available next to the displays to encourage membership.  To help with marketing, local designer Birgit Carow has been employed for up to ten hours a month to produce high quality posters and promotional material that goes into the local paper, are spread on online platforms, is sent to the membership as well as made into attractive posters.
Personnel and Administrative Successes – This year there has been a very stable trustee group that has functioned well together and who were strengthened by our new Treasurer David Hammond who joined the trustees in January bringing much appreciated financial and charity working skills.   Our part time Land Manager Kajedo Wanderer continues to carry out sterling work on the land – work that  underpins much of what the FHT does.  In particular his chainsaw work creating clearings for regeneration and planting in the woodlands has been much noticed and appreciated.  Regular land management, finance, beekeeping, green burial and membership subgroup meetings have served the work of the trust well in giving time to discuss and make decisions on important operational details.    Although the Conservation Hub was completed in February 2022, it has taken considerable time to finalise and register the Hub occupancy agreement with the landowner the Findhorn Foundation which was finally concluded at the end of March 2023 giving the trust greeter security around this important asset.
Jonathan Caddy
FHT Chair
Taken as an extract from the 2022-2023 FHT Trustees Report and Financial Statements