Lichens grow all around us- on trees, walls, pebbles and the soil- and yet we often hardly notice them. They paint the world with splashes of colour and patterns. Many are tiny but all are a symbiosis of a fungus and alga living together – along with yeasts and other organisms – they are indeed mini eco-systems.
The fire pit in between East West and North Whins is covered in a carpet of delicate lichens that grow on the ground, on pebbles and on the stems of heather.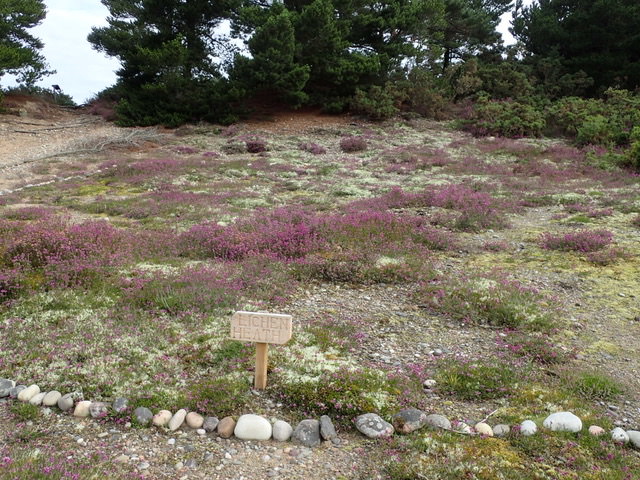 This area, which was a former gravel pit, has been cared for since 2017 by volunteers, ensuring that this beautiful area remains open to the sun and rain and is not covered by gorse or the growth of many self-seeded non-native Lodgepole Pine trees, which would shade out the lichens and cover them with dropped pine-needles. The fragile lichen areas are marked by small notices and ringed with pebbles, and logs indicate pathways.
The fire pit is home to a nationally rare and endangered lichen that is only found in a few places in the UK.  Peltigera malacea or Matt felt lichen, carpets the ground here, its tiny leafy body is dark green when damp and crinkly and brown when dry. In the photo below it is growing with tiny pixie-cup species of Cladonia.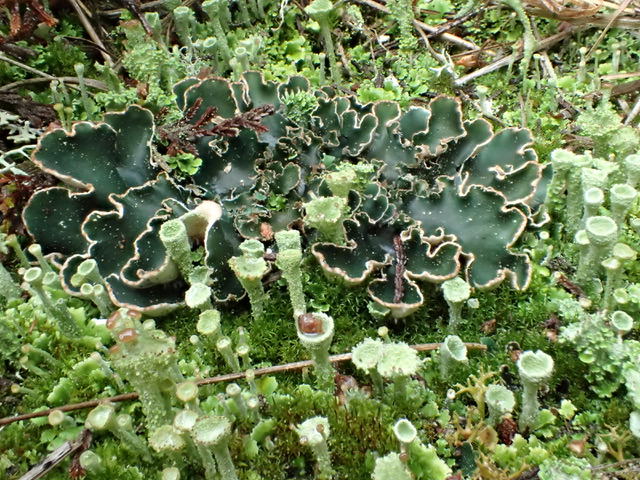 There are other species of Peltigera growing on the ground in the fire pit. These are called "dog lichens' because the undersides carry hairy projections which reminded people of dogs' teeth. In the past they have been used to try to cure dog bites.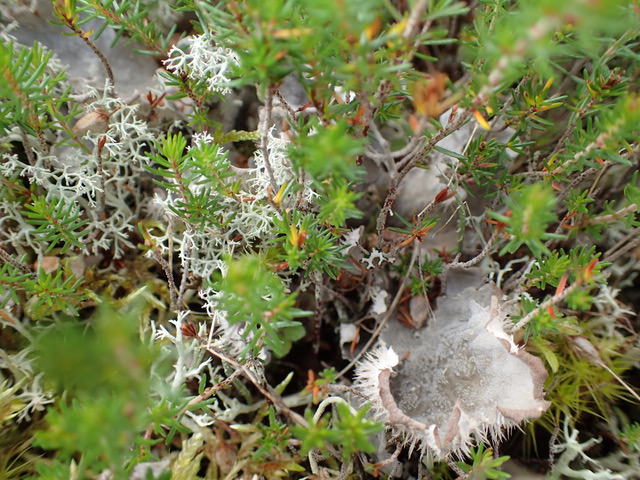 These Cladonia scattered about in the fire pit have red fruiting bodies containing spores. This is one of the ways that lichens reproduce.
In October the monthly Findhorn Hinterland Trust work party removed gorse and broom from the firepit – without this on-going care these ground-dwelling lichens would be lost as they cannot grow under shade and both gorse and broom would soon overwhelm them.
Further work was carried out by this October work party in a large area to the north of the fire pit where a large translocation had been done in 2020 in order to save some of the lichens that were growing on the ground in North Whins.  All the lichens in the pictures below were moved in 2020 by over 30 volunteers in a daylong work party organized and supported by Duneland Ltd. 
This picture shows the lichens 2 years after translocation.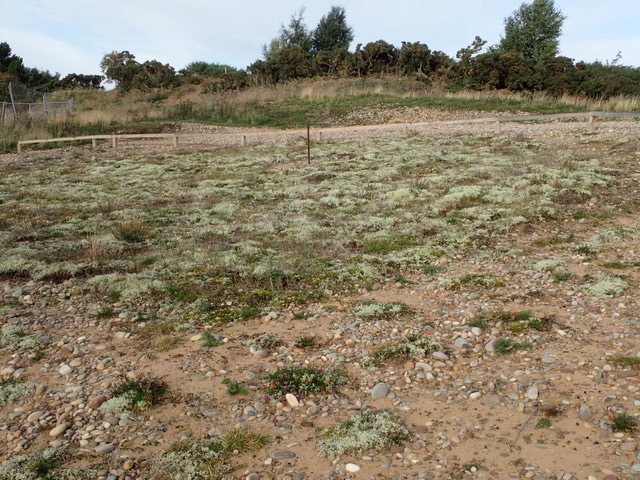 The lichens thriving here include the rare Peltigera malacea and different species of Cladonia or"reindeer lichens" (the silver-white  species are an important food for reindeer in the Arctic).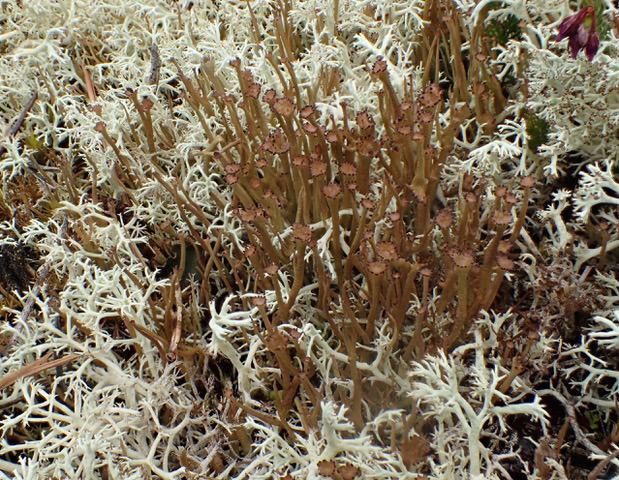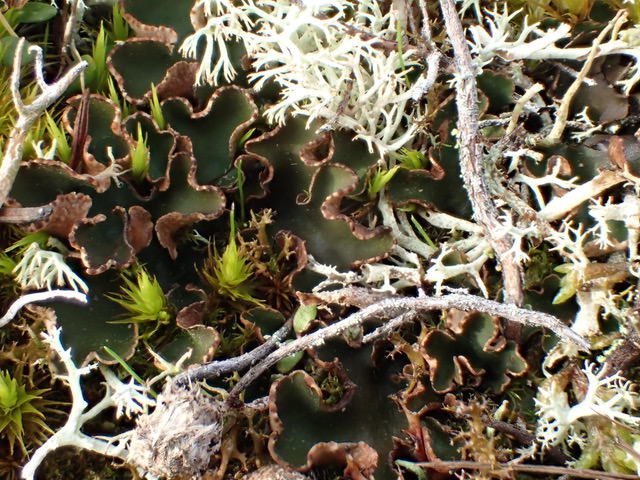 Lichens also grow on the larger pebbles in the translocation site and it is hoped that the sandy areas with small stones will gradually be covered by lichens as they settle in and  reproduce. The tiny creamy balls on this Xanthoparmelia mougeotii are a mix of fungus and alga and when they fall off or are blown away they can begin to grow into new lichens.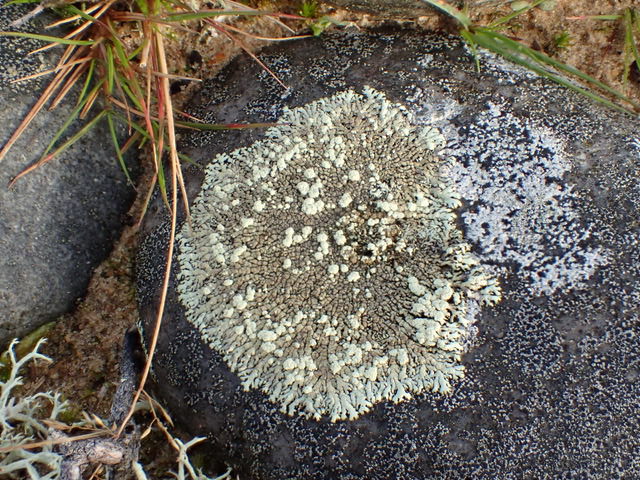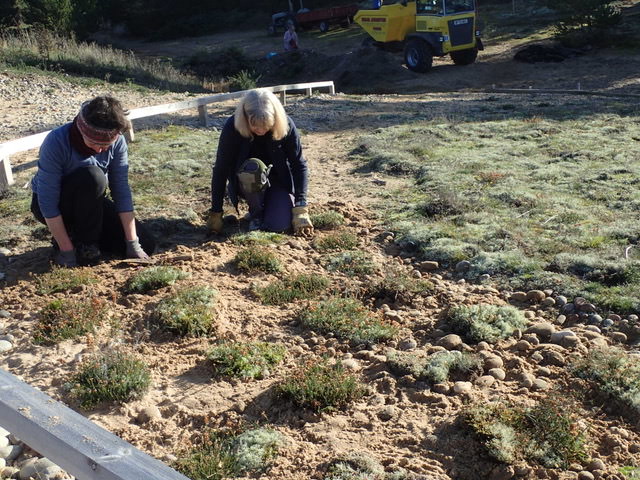 This picture shows the work done by the FHT work party in October 2022.  Prior to the work party, patches of the rare Peltigera malacea were identified. Volunteers moved this lichen from areas that will be lost by the current building work, helping to complete the translocation started 2 years ago.
Many thanks to Duneland Ltd for the thought and care they have shown towards taking steps to value and save important parts of this amazing local ecosystem and giving time to allow amelioration work to be carried out.  Thanks also goes to Eian Smith, their Executive Director, for the very welcome pumpkin soup provided at the end of the work party!
Heather Paul
FHT Member and Local Lichen Enthusiast 
November 2022