2nd – 4th June 2022
The Findhorn Hinterland Trust, Nature and Therapy UK and the Findhorn Foundation worked cooperatively to make this training course happen using the FHT Woodland Shelter and woods, FF accommodation at the Park, the Cluny woods and the expertise provided by Stefan Batorijs and assistant.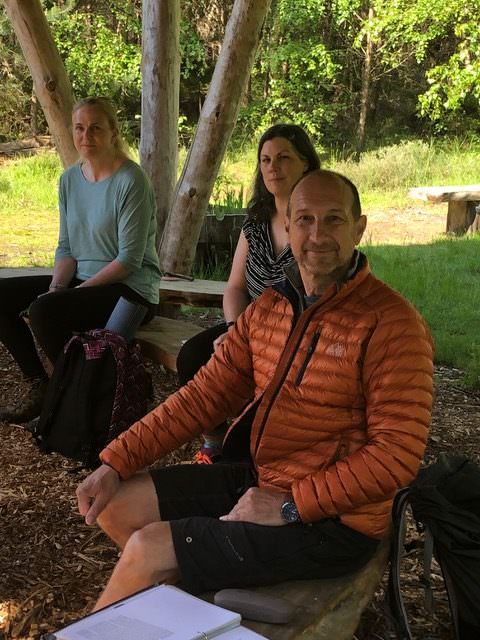 Earlier in his life, Stefan had been inspired by the nature connection he read about that happened at Findhorn and went on to explore and be trained in Shinrin Yoku, an evidence based Japanese approach to encouraging people to engage with the natural world, particularly trees, to gain the clinically verified physical and immunological benefits of contact with nature. He presently works out of Devon where in 2017 he founded Nature and Therapy UK – a response to what he saw as a growing need for spiritual and psychological connection to Nature and education about how we can learn to respect and include Nature in our lives.  He was very keen to visit Findhorn and run a course in Scotland.
The International Forest Therapy Guide Diploma and Shinrin Yoku Practitioner Training Course held here in early June was a great success with fine weather, eight keen participants and some pleasing feedback.  We hope that this will become an annual event and give an opportunity for some of you living locally to benefit from what Stefan has developed and can offer.  More information can be found at www.natureandtherapy.co.uk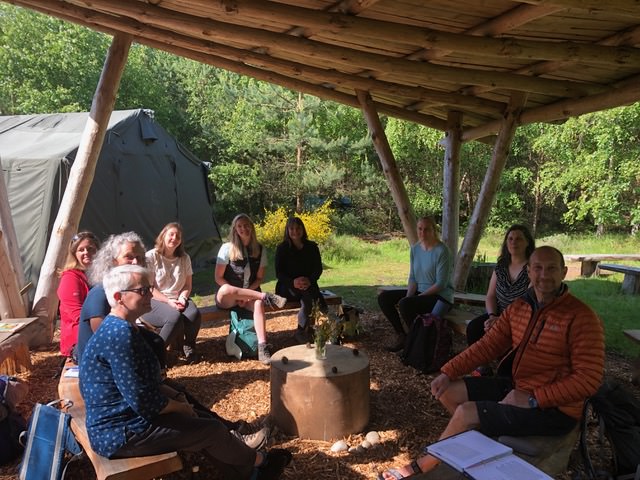 Here is feedback from a couple of the participants: 
As soon as I came across the forest bathing course offered by Nature & Therapy I knew it was something that would deeply resonate with me. At the time the course was only being offered in England. I am so grateful that I waited for the first one to take place in Scotland. As soon as it was announced that it would be held at Findhorn I knew I had to attend. I had been to Findhorn once before to celebrate my 38th birthday and it left an imprint of deep awe and reverence.
The course itself, as well as the location, fostered the most beautiful and symbiotic relationship as the backdrop for our study. Stefan and Ruth were absolutely wonderful facilitators. Every lesson was awe inspiring and served as an invitation to deepen our own knowledge of forest bathing and forged a deep desire to share it with more people. Joern, who has lived in Findhorn for 25 years, was the most welcoming, warm, kind, and generous guide. He made the entire time at Findhorn an absolute joy of an experience. 
My time at Findhorn during the forest bathing course is one of those sacred moments that has changed and continues to change me in ways both great and small. My gratitude for the course, the facilities offered by the Findhorn Hinterland Trust and the Findhorn Community is life long. I look forward to sharing the wisdom of the forests and the power of community.
With deep gratitude,
Sarah-Alexandra Teodorescu
Three days wandering the forests of Findhorn was nothing short of transformational. Of course, the history of the Foundation makes it a conducive environment for self-study, but the spirit of the land brings the practice of forest bathing to life. Our hosts from the Foundation generously offered their time and energy to accommodate our small group. I was touched by everyone's willingness to share their stories and fond memories of this small slice of heaven. Words cannot express the preciousness of my own memories of Findhorn, and I'm counting the days until my return!
Daillen Culver