By Jonathan Caddy
Finally a physical base for the Findhorn Hinterland Trust and its good work is on the horizon!  It has been thought about for over five years – a meeting place for our regular volunteering and educational events, an important space to present educational information to local people and visiting public as well as a space to house and maintain our valuable tools and equipment including our old Grey Fergie tractor, Fergus, and trailer.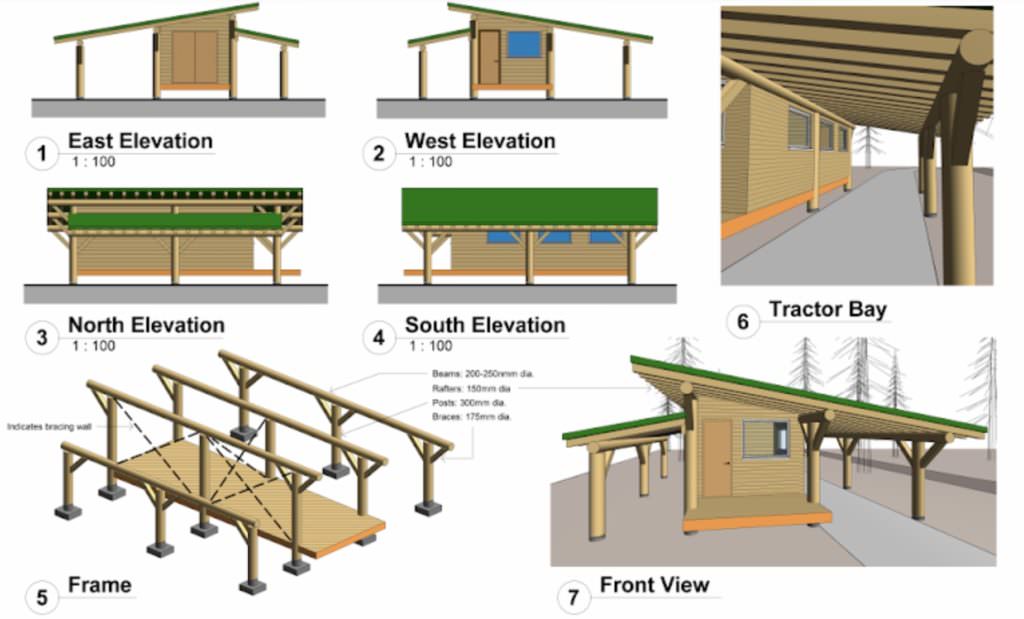 Three years ago an agreement was sought and granted from the landowner the Findhorn Foundation to build the structure on the southern edge of Wilkies Wood close to the present wood store and access track to the FHT Green Burial site on the northern edge of Pineridge.  Henry Fosbrooke, a master builder who built the Outdoor Learning Space building in our Edible Woodland Garden, helped design the building, which will use round timbers cut from our woods for its main structure.  Cladding and other squared building timber will also be from our own trees with Logie Sawmill set up to process them – at present you will see them lying in various places next to the Pineridge road.  Overall the building will be 100m2 with much of this covered space to keep our materials and tractor and trailer dry with a smaller enclosed space for our workshop facility and safe tool storage.  The outside of the building will be used to present educational material.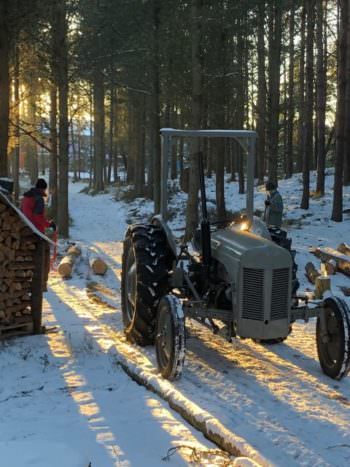 This winter the site was cleared by Kajedo Wanderer, our Land Manager, and these trees along with others thinned nearby in the woods, have been measured, selected and dragged to the site using our tractor.  We received a small grant from Volunteering Matters to allow us to purchase woodworking tools and for a good many weeks in February/March over 25 volunteers peeled and prepared the logs  – a splendid community effort in the snow and darker months.  Thanks goes out to all involved.
Meanwhile, a detailed budget for the project was prepared and a small fundraising subgroup worked on a 'Case for Support' to go out to potential funders.  Nine grant applications have been sent so far with the Ena and Gordon Baxter Foundation coming back to us with a pledge of £2000 already.  This along with the generous contributions from a few individuals within our community and a small but significant sum from the New Findhorn Association (NFA), brings us close to raising a quarter of the £20,000 needed to fully fund the project.     
The Hub represents a huge step forward for the FHT. It will allow us to continue and further develop our vital work to bring together people of all ages in the local community and to provide recreational resources that promote the benefits of social outdoor activities and volunteering. This functional structure will ensure a physical presence and promote active community engagement and education for present and future generations. 
Please hold this important project in your positive thoughts as we invoke further funding.  If you have further ideas on how we might progress this project or you wish to be involved as a volunteer when we do get the green light, do get in touch.