Living and Working on the Land for Six Weeks
I write these words from a cosy bell tent in the Hinterland, which stands on a new camping pad I managed to clear with the help of my friends.  We started at the end of February and finished in mid March. Now I have lived here for a month and two weeks, committing myself to this land and its needs with a weekly input of time, energy and love. One would not make sense without the other, as being in the woods gives me so much it would just be incoherent to not give anything back.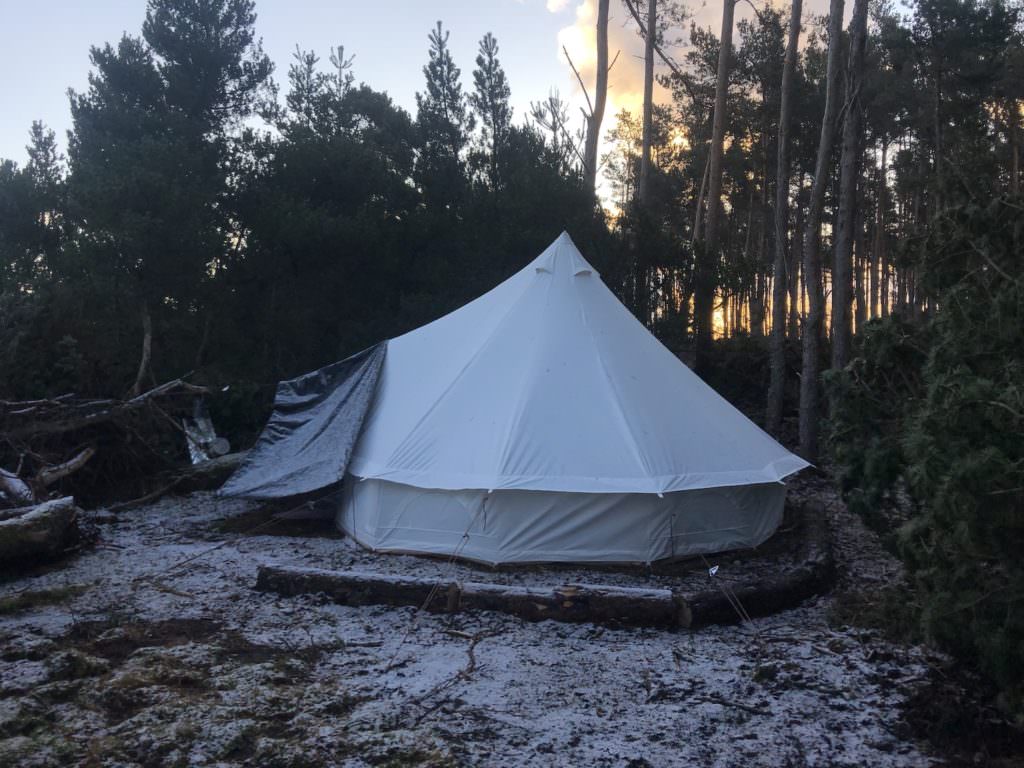 What is it that being surrounded by trees and other wildlife gives? Words might not be enough to describe it, but we all have an idea of what it is to feel an immense love for the soil on which we step, the air we breathe and the comforting idea that nature nurtures not only our bodies and souls, but also the connection within ourselves and others. Waking up in such a beautiful place allows me to serve all my commitments full of energy and joy.
I arrived here eight months ago and I have been living in The Park since then. Enough time to state these months have been life-changing for me. This place provides learning opportunities of a very special kind, and its people have warmly welcomed me for this and more. Little pieces of every person, group, organisation and other stories have all contributed to my experience here, but this recent jump into the woods feels like one of the best decisions yet. My first contact with Findhorn Hinterland Trust work was through a tour guided by Kajedo and, from then on, I have never stopped being fascinated by the inspiring good work that is done here. Touched by its vision, I soon started to regularly join the new Conservation Hub's building working shifts as a volunteer. Today, it is really moving to see this wooden-made structure standing in the forest completely finished knowing that, as many others in the community, I have been part of such a thing to be materialised. Peeling logs, moving wood or varnishing are satisfying activities itself, but seeing the result is absolutely magic and makes a little contribution immensely rewarding.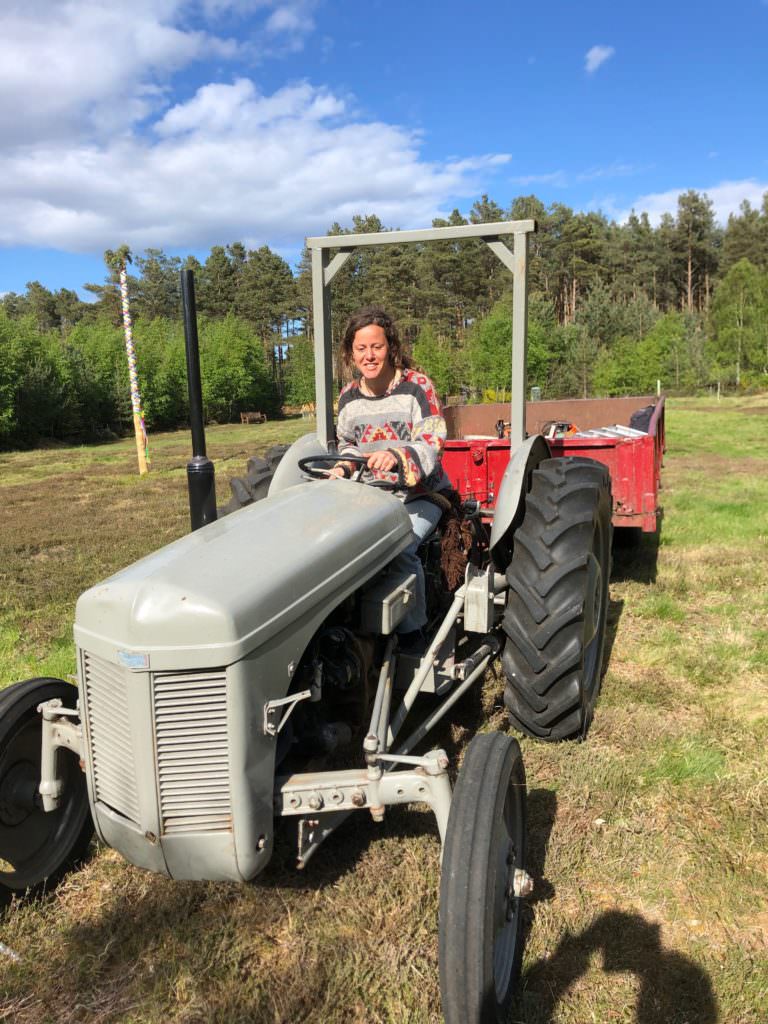 The Woodland Garden has also changed a lot since I first went there, and I have enjoyed very much spending some mornings with Draeyk and others moving wood chips, intensely weeding or making space for the new compost piles or the green house to be placed. However, agroforestal changes are more subtle to perceive and it takes a slow learning journey to train our eyes and develop an open observing perception. In a way it is easy to arrive one morning and leave seeing the difference that a working session has made. For example, when a little group spends three hours cutting gorse, it is quite gratifying to see all the spaces that have been created for other plants and trees to spread more freely. However, it is difficult to see huge differences in a short amount of time. It might be about the natural paces, its own rhythms and seasons, together with the fact that only the surface of land that FHT manages is really vast compared to our lovely piece of Woodland Garden or the terrain in which the new Conservation Hub now stands. Maybe it is about the larger previous context I have to catch up with. Anyways, may I develop these attentive senses to understand and see everyday a little bit more by working and living on the land.
As the first permaculture principle says, 'Observe and Interact' is now one of the things I am deeply interested in. Implementing it to the practice of every practical skill is what I am working on. From scarrifying to emptying a compost toilet, building a new one (in process) or learning to drive a tractor, all these are new skills for me to learn, and I care about why they are useful and how they serve our bigger purpose…  Everything is yet to be done. I really hope this is just the beginning and this apprenticeship experiment can serve other volunteers in the future, benefiting them equally as they might benefit this place and its beings too. I am now full of dreams and I can just aspire to be able to stay and keep on this learning path as long as possible. I believe its potential is huge and FHT purposes are aligned with my expectations of serving the community and promoting its involvement, protecting the land and being able to environmentally educate myself and others thanks to this community involvement and  its natural energy exchange. I am looking forward to sharing this learning journey with you all.
With deep gratitude,
Irene