Somewhere in the hinterland beyond the Findhorn Ecovillage at the Park lives a mysterious creature. It has ears like a cat, it meows like a cat and it appears much larger than a cat. Do you know what it might be?
It is the Long-Eared Owl (also known as the cat owl) – one of the most enigmatic and secretive species of owl in the UK. And… this May owlets appeared -the mama owl decided to nest in the Findhorn Hinterland and hatch out two young, which are now already big and able to fly on their own. This is really special news!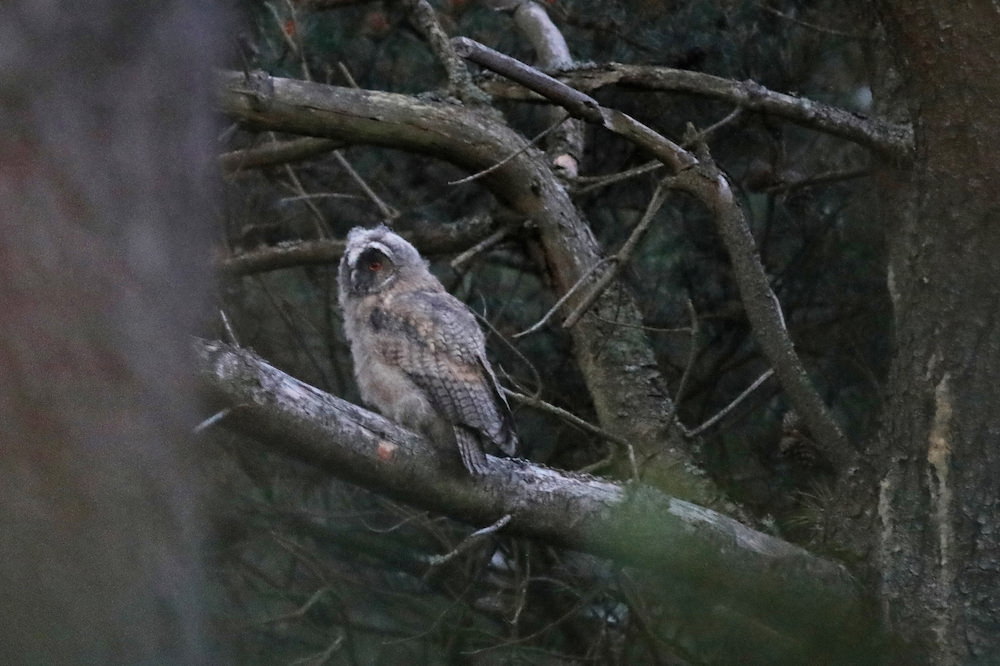 Asio otus, the latin name for Long Eared Owl, is one of the 5 species of owl in the UK the others being our well-known Tawny Owl, the ghosty Barn Owl, the elusive Short Eared Owl and the smallest one, originally not native to the UK, the Little Owl. Long Eared Owls are probably the species that are least often seen and are also rarely heard by birdwatchers. This is because they are strictly nocturnal (other owls sometimes fly during daylight), they have secretive behaviour and they rarely hoot (the sound usually made by owls). Unlike many other owls, they are not strongly territorial but instead have nomadic habits which means they may change their territory from year to year. Having a Long-Eared Owl nesting and successfully fledging in the Findhorn Hinterland is a good indicator that we are doing the right thing in terms of land management.
I like to call them flying cats because they fly silently and when perched, their long ears stand out. Scientists still do not know why exactly they have such long ears which are known as erectile ear tufts. What they do know is that they are a specialised predator which means they are strictly dependent on a specific prey. This makes them very sensitive to population decline of their prey species which can happen for example if humans use rodenticides or rat poison – an important reason for not using these chemicals.
On one frosty night in March earlier in the year, I was lucky enough to hear the slow, repetitive, hypnotic hooting of this owl – "hoooo (…) hooooo (….) hooooo". It was indeed a lucky event because the owl rarely hoots unless it is calling for a partner and when it does the sound cannot be heard much further than 500 meters away by us humans. To my knowledge it did this only one single night in March and then I had no further sightings and didn't hear them again for a long time.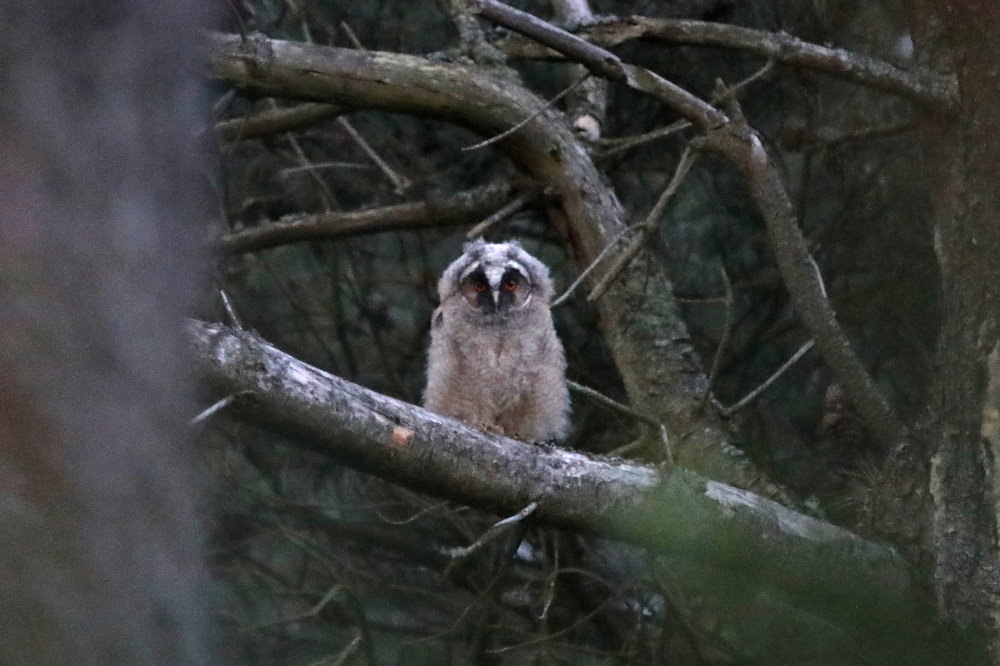 Much later whilst walking on the dunes one bright evening in May, I saw the owl again flying silently and low whilst hunting for voles, its favourite prey. I then realised that the owl must have settled and made its territory in the Findhorn Hinterland sometime in March – it had just been very secretive and not shown any sign of its presence. I used my knowledge to guesstimate where it might be nesting and weeks later I had my suspicions confirmed by hearing the call of the two newborn baby owls. Unlike their parents they are noisy for a few weeks when they make begging calls for food from their mother. Since then a few others including Alan Featherstone and I, have seen these baby owls with their outstanding long ears. Their rather slim parents with a wingspan of 1 metre and an ability to fly silently and buoyantly have also been seen regularly. They prefer to roost in conifer trees, but hunt over open ground. Our Findhorn Hinterland has both habitats as well as an abundance of voles and is rat poison free, so this is a perfect habitat for them.
Our Findhorn Hinterland is also home to other special species of birds like Crested Tits and Crossbills as well as rare fungi and lichens. Do consider supporting our work in encouraging and conserving the biodiversity of the special land that surrounds our community by becoming a member and getting involved in the environmental and land based community activities we offer.
For now, let's wish a warm welcome to our new baby Long Eared Owls! If you are lucky enough to come across them, do make sure to not disturb these beautiful, shy and secretive fellow creatures that we feel so honoured to have living next to us.